Happy Holidays from TCR!
As we approach the end of the year, we'd like to take a moment to thank each of our amazing clients for entrusting us with your technology, for all the referrals, and for being awesome to work with.  Each of you help make what we do fun and enjoyable!  We'd also like to thank each and every member of our expanding TCR Family for your exceptional and unique personalities and your many skills & talents.  It's unbelievable how quickly 23 years of business has gone by!
Some of the highlights from 2022:
We brought in 32 new clients, many of them referrals from our existing clients, YOU! Thank you!
We hired 2 new (fantastic!) team members
We created a new role within our organization to focus proactively on client needs
We celebrated 12 clients who have been with us for over 20 years
We celebrated 87 clients who have been with us for over 10 years
Our staff celebrated work anniversaries of 12 years, 10 years, 9 years, 8 years, 7 years, 4 years and 1 year
We were accredited by the Better Business Bureau and hosted a networking mixer that had a great turnout!
We joined the Tucson Hispanic Chamber of Commerce
We revisited our company values to make sure they align with the way we want to deliver services and support to our clients
We revisited our vision and mission statements to make sure they wholeheartedly represent our values
Our vision is to be Southern Arizona's Leading, proactive IT colutions company, enabling our clients to reach their full business potential….

Our mission is to partner with businesses to consistently deliver proactive IT services. We empower businesses with reliable network infrastructure, updated systems, and secure business tools.
Things we look forward to in 2023:
We're moving into a newer, more updated office that better fits our growing business! Details to be shared soon.
We are celebrating a 10 year partnership between co-owners John and Chris
We're planning a company retreat to show our staff how much they are appreciated!
And of course, we will continue elevating the way we deliver the best tech support to each of our wonderful clients!
Wishing you and yours the very best this holiday season,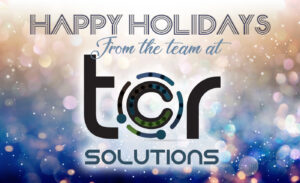 The TCR Team