Our Services
TCR Solutions Services Catalog
TCR Solutions, Inc. is a full-service computer solutions company specializing in managed IT services at competitive prices. Our team of technicians all have extensive experience in the field of IT and computer science. We provide hourly, on-call support as well as fixed monthly pricing.
LAN/WAN establishment

Network troubleshooting

Network configuration/optimization

Server, Workstation and Network Maintenance

System Inventory

Managed Offsite Backups

Managed Antivirus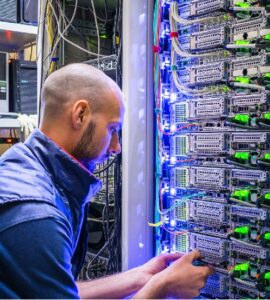 Hardware Installation

Enterprise Solutions

Microsoft Exchange Server

Microsoft SQL Server

All Versions of Windows Server

Windows 7, Windows 8, Windows 10, Mac OSX

Support line for existing IT departments

Much More, Just Ask!
We have extensive experience supporting the following industries:
Looking for IT companies in Tucson?
We provide the best IT support Tucson has to offer. We offer customized  solutions to fit your unique needs. No other IT consulting firm can match our extensive range of experience, rapid response time, and top notch customer service. Don't get frustrated with technical challenges, call TCR Solutions and we can show you how smoothly your systems can run so you can focus on building your business. As one of the top Tech companies in Tucson, we do have a large presence in Arizona, but we offer IT services throughout the US.
Do you need Cyber Security Services?
Once your systems are running smoothly, make sure they are protected from online attacks. Digital data and technology systems can dramatically improve productivity and profit for your business. These systems are also at risk of having a security breach that could cause a system shut down or malfunction, so having the proper protection in place is more important than ever. There are variety of methods used to protect your system from outside threats including encryption, risk management, prevention of unauthorized access, and other proactive measures. Our cyber security experts can make sure your systems have the best protection possible. Contact us for an online cybersecurity review today!
Your business is growing and you need IT support that can keep up
As your business grows, so does the complexity of your IT infrastructure. You need a reliable IT support team who can handle any issue that comes up. We provide the best IT support Tucson has to offer. We currently service customers throughout the state of Arizona and beyond. Our team is experienced and ready to help with anything your business needs. From desktop support to network security, we have you covered. Call today to learn more about our professional and affordable IT services.